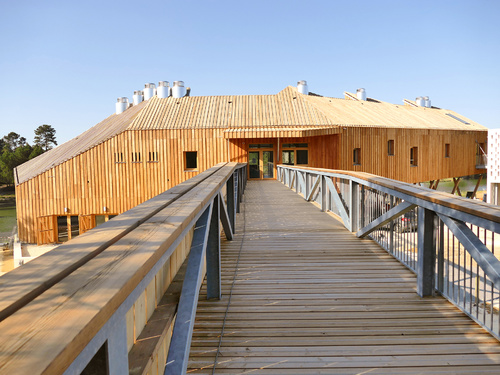 Step into a new world, step into Mysterra®
Mysterra® is a new-generation leisure park. A subtle, unique blend of full nature, hi-technology and art, set in a labyrinthine world designed in and by the forest.
The park was thought out with one aim: to offer you in a single area an opportnity for games, thought, physical exercise, discovering biodivrsity and opening out to culture.
11 hectares of pine forest, paths, fragrances, diverse visual atmospheres, at the edge of the Baron-Desqueyroux Lake in Montendre. An ideal place, preserved by time, nestling in the region of Haute-Saintonge on the borders with Charente-Maritime and Gironde, a one-hour drive from the ocean and a few minutes from the estuary of Gironde, in the midst of vineyards of pineau des Charentes, Cognac and Bordeaux.
Stepping into Mysterra® Park, is to leave one's day-to-day behind and let oneself be transported by the peace and quiet of nature.
Stepping into Mysterra® Park, is to enter into the world of games. Your only allies are your smartphone or your tablet, your thought and sense of orientation, which will enable you to find the answers to the riddles to resolve the investigations at different levels and put you in the shoes of characters from historical tales.
Stepping into Mysterra® Park, is to open up your senses, take in works of art and discover the wealth of biodiversity.
Stepping into Mysterra® Park, is to enter a world where one's usual bearings are confused. Losing oneself so as better to find oneself. It is creating one's own time.
Stepping into Mysterra® Park, is to choose the activity corresponding to what you want, on your own, with friends or family. It is about choosing to play games or stroll, choosing competition or contemplation. Sometimes, it's about choosing... not to choose.
Make the park a private venue
For a private event (company incentives, birthdays or anniversaries... ), organise a one-off day at Mysterra.