Montendre: feet on the ground, head in the clouds
Mysterra® Park is situated in the pine forest of the Montendre municipality, in Haute-Saintonge, to the south of the county of Charente-Maritime, bordering on Gironde.
Montendre is a village with a long history, nestled against vine-covered hillsides and which, in the Middle Ages, was an important crossroads for trade. Montendre overflows with stories, characters, legends and poetry.
Mysterra® Park has blended into this place of peace and quiet and the surrounding landscape, deeply rooted in the municipality's earth. Entirely designed with a concern for sustainable development, the park slots into, merges and has become one with the local land.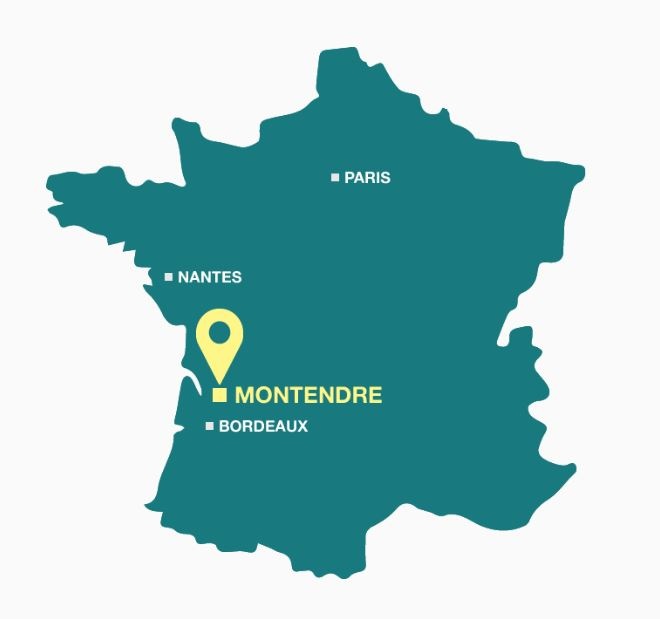 Montendre's tourist activities
Baron-Desqueyroux Lake
Set in pine trees, bordering on a Natura 2000 listed peat wetland , the 10-hectare lake is a perfect spot for fishing, walking, swimming (authorized and supervised in July and August) with a swimming-pool, pétanque, water sports (canoe-kayak, pedal boats, windsurfing, sailing) and open-air activities (archery, mountain-biking... from the leisure centre of Montendre Ville Club during the summer period. It is also the starting point of numerous trekking paths and a horse-riding relay welcomes those on horseback. Also on site are games and a merry-go-round for children.
The site is also a natural zone of ecological, fauna and flora interest.
Each year, at the end of June, the lake is the venue for the Free Music festival which draws several thousands of contemporary music aficionados.
Montendre castle
Montendre castle is situated on a rocky outcrop at an altitude of 114 metres and provides a vast panorama over moorlands, woods and fields as well as the tightly-packed houses of the village below. Its first building goes back to the 9th century, and was followed by reconstruction in stone during the 12th century. Much modified in the 15th century, after being fought over during the Hundred Years' War, it became a Protestant stronghold during the Wars of Religion. 
At the entrance to the castle, the square tower houses the museum of popular art and traditions. On three levels, it shows collections from donations or loans, of coiffes (head-dresses), costumes, Saintonge furniture, together with objects of everyday life (lamps, irons, cauldrons, etc.) from the early 20th century in Saintonge, as well as clothes and games. The museum illustrates reconstituted life scenes but also has a documentary fund, made up of old photographs of Montendre, flags and banners.
For further information on Montendre go to http://www.ville-montendre.fr/
Haute-Saintonge, a tourist, cultural and leisure hub
With a vast territory of 131 municipalities and a population of 67,000, Haute-Saintonge, situated to the south of Charente-Maritime, on the borders of Charente, Charente-Maritime, Dordogne and Gironde, is a tourist, cultural and leisure hub, whose dynamic drive and creativity make it a favourite spot with visitors to Charente-Maritime.
Haute-Saintonge activities
The Vitrezay Nature Centre, on the Gironde estuary
The World of the Gironde Estuary reserves a thousand surprises for you to choose from! 
Vitrezay - a place to discover, taste, sail and fish:
At your own pace and in line with how you feel!
The Nature Centre proposes you:
boat trips,
fishing activities,
bike rides.
 
The Pons Pilgrimage Hospice
Built during the 12th & 13th centuries, the hospice has been featured on the UNESCO World Heritage List since 1998 as part of the Roads to Saint James of Compostella network. In a vast room and under a superb Romanesque porch, the poor, sick, orphans, travellers and penniless pilgrims found refuge and protection. 
The site also has a medicinal herb garden, inspired by monastery gardens. Covering over 3,000 m² it offers an opportunity to discover plants which cured, aromatic plants, useful plants and forgotten vegetables. Take time out for a rest near the fountain of the magic eel whose legend will be recounted to you.

The Nature Centre of the House of the Forest
In Montlieu-la-Garde, in the heart of the Double Saintongeaise forest, the House of the Forest welcomes you for a fun & educational visit of nature, and whose programme includes an exhibition dedicated to trees and forest, a walk through an area of 20 hectares, events, creative workshops, children's games, watchtower for an impressive panorama, etc.

Tropical Jonzac
All the heat of the tropics is waiting for you under a huge white canvas, where the lagoon bordered by palm trees and a garden of exotic varieties invites you to take a dip in the water at a temperature of 30°. Fun for all with a giant toboggan, water games, trampoline, beach volley, but also a fitness space, Turkish baths, a park-sauna, hot marble, UV booths, a solarium and therapy rooms. Creole houses, colourful shops, a panoramic restaurant featuring savours from all over the world, an area for shows and congresses in a theatre of greenery that invites you to stroll against a backdrop of luxuriant vegetation. 

The House of Vines and Savours
In Archiac, discover vines and wine-tasting, local savours, events, culinary workshops, conferences and exhibitions, as well as the media hub.

There are also walks and treks, the House of Energy, the Val de Seugne Park, the Sailing School of Port Maubert, Terra Aventura, the Saint-Georges Quarry, the Castle of riddles, the Centre for safety and machine sports of Haute-Saintonge, a remarkable architectural heritage, as well as a spa complex and a congress centre.

For more information, go to http://tourisme.haute-saintonge.org
Make the park a private venue
For a private event (company incentives, birthdays or anniversaries... ), organise a one-off day at Mysterra.